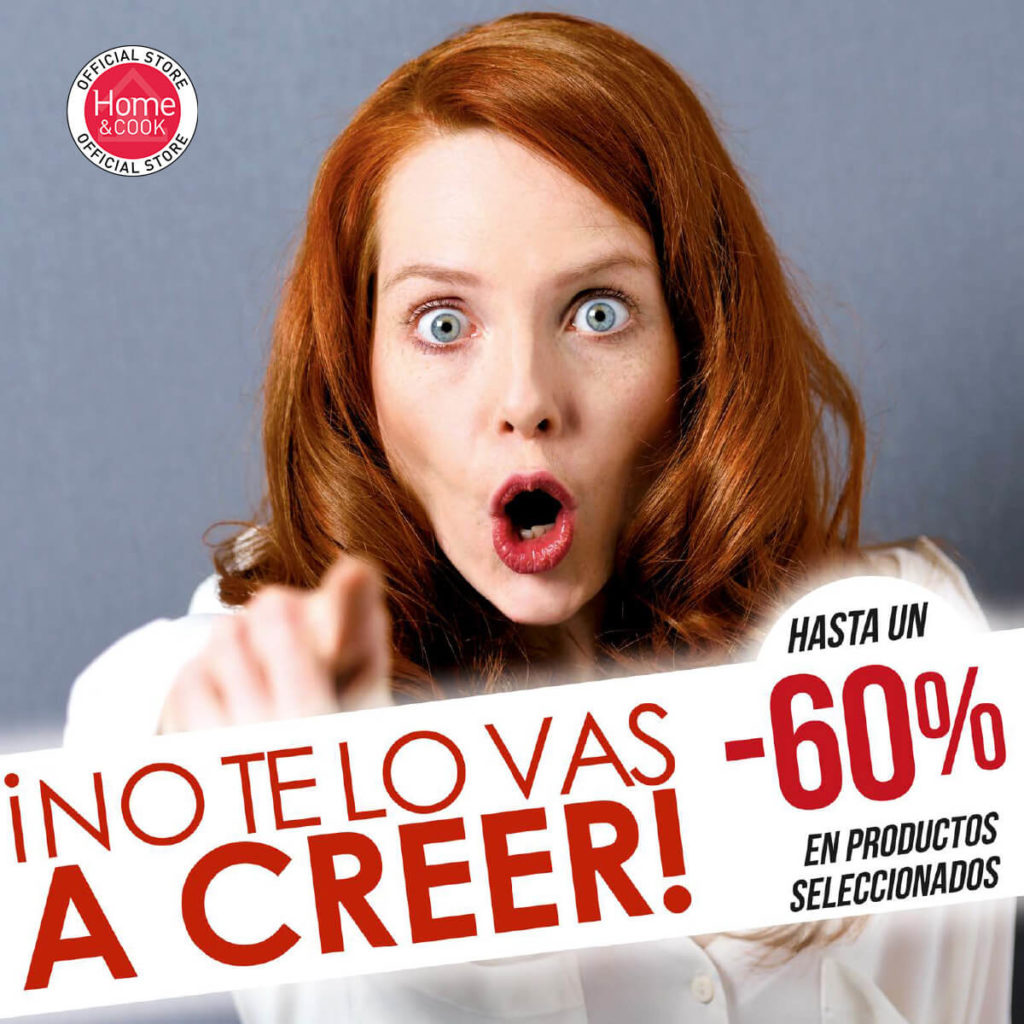 Summer sales are coming to Home&Cook!
Up to 60% discount on selected items.
Find everything you are looking for at an incredible price.
Read More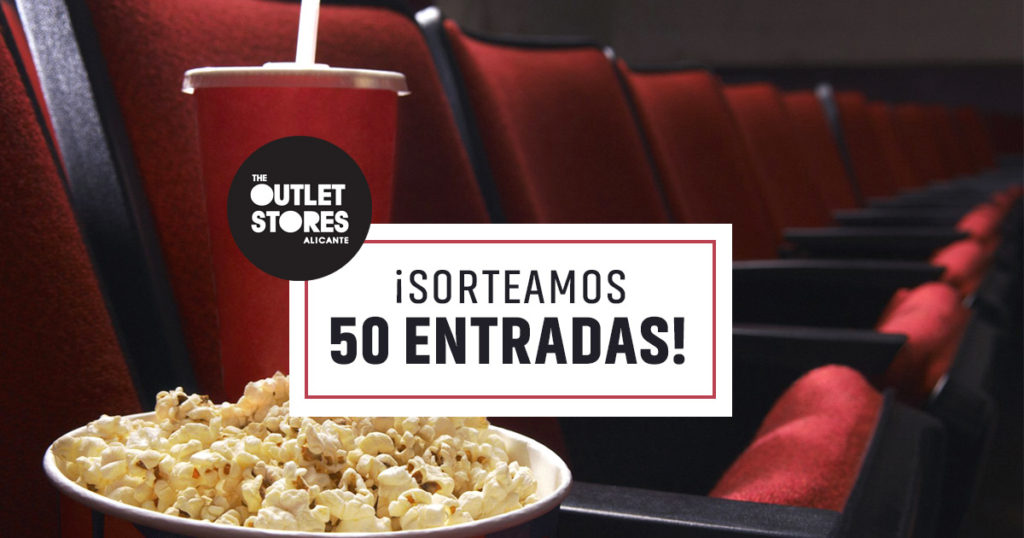 Actualiza tu suscripción o suscríbete a nuestra newsletter y participa en el sorteo de 50 entradas para ver cualquier película en el Cine Megarama Alicante.
¡Date prisa! ¡Sólo para los que estén suscritos antes del mediodía del 30 de mayo!
BASES LEGALES CONCURSO: NEWSLETTER LOPD
1.- DURACIÓN DE LA PROMOCIÓN
El concurso se iniciará el miércoles 23 de mayo de 2018 y extenderá su duración hasta el miércoles 30 de este mismo mes a las 12.00h., fecha en que se cierra el plazo de participación (ambos inclusive).
2.- PREMIO
Los premios consistirán en 50 entradas de cine por ganador (válidas para cualquier película) y, por tanto, 50 ganadores. Estas entradas de cine únicamente serán válidas para el cine Megarama CC. The Outlet Stores Alicante.
El sorteo público se realizará el jueves 31 de mayo a través de la herramienta Random Picker, y el ganador se comunicará vía correo electrónico.
Las personas ganadoras deberán ser mayores de edad y residentes en la Península Ibérica, quedando eliminadas del concurso y premio si esta condición no se cumpliese.
3.- MECÁNICA DEL CONCURSO
La promoción se denominará "NEWSLETTER NUEVA LEY DE PROTECCIÓN DE DATOS" y se desarrollará dentro de la base de datos de The Outlet Stores Alicante.
La promoción tiene como finalidad reforzar el conocimiento de marca, generar tráfico, afluencia y generar ventas además de la fidelización con nuestra base de datos.
Los participantes que cumplan las condiciones mencionadas deberán aceptar la suscripción a la newsletter con el nuevo reglamento de protección de datos.
Los premios se sortearán entre todos aquellos que acepten la suscripción a la misma durante el periodo de la promoción.
Si en el plazo de 7 días desde la realización del sorteo no se hubiera conseguido contactar con alguno de los ganadores, se pasará a contactar con el primero de la reserva (habrá 3), y así sucesivamente.
4.- CONSIDERACIONES DE CARÁCTER GENERAL
The Outlet Stores Alicante se reserva el derecho de cambiar las bases legales en cualquier momento si la ocasión lo exige.
El Organizador se reserva las siguientes facultades relativas al desarrollo y ejecución de la Promoción:
Modificar o suspender la Promoción, siempre que concurra causa justificada, y con el compromiso de comunicar con la suficiente antelación las nuevas bases y/o condiciones, o en su caso, la anulación definitiva.
El Organizador no será en ningún modo responsable de los incumplimientos o infracciones de ningún tipo relacionados con esta promoción, y el participante exime de cualquier tipo de responsabilidad y mantendrá indemne al Organizador de cualquier reclamación como consecuencia de los daños y perjuicios que pudieran derivarse del uso de del premio obtenido.
5.- OTRAS NORMAS APLICABLES
Esta Promoción se rige por la legislación vigente en España.
Read More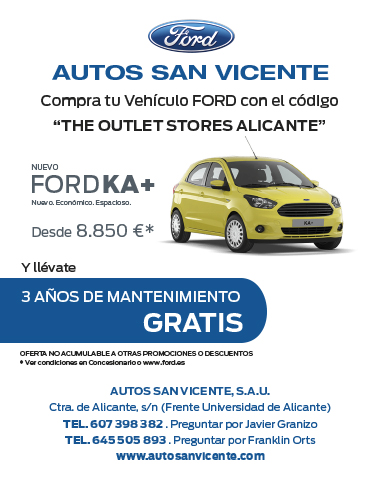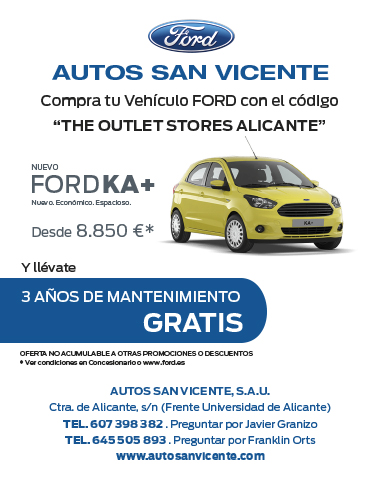 AUTOS SAN VICENTE is now at The Outlet Stores Alicante shopping centre to show you the new Ford KA+, a vehicle with personality and versatility. You'll be surprised by the space inside. KA+ is ideal to drive around the city or for weekends away, adding extra comfort to your trips. Come and visit us and learn more about the design and technology.
In addition, when you buy your Ford KA+ at Autos San Vicente, you can now have 3 years free maintenance. This offer does not apply to other promotions or discounts.
Come along!
Read More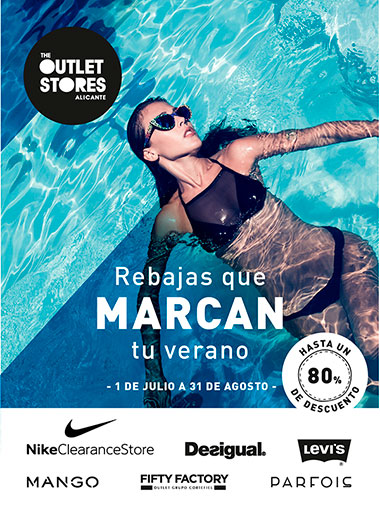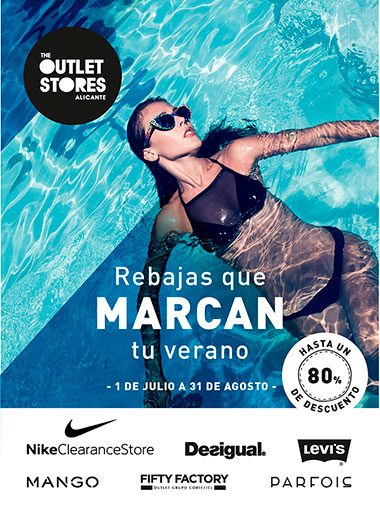 SALES at The Outlet Stores Alicante are now here! Visit our shopping centre from 1 July to 31 August 2016 and take advantage of our additional discounts with up to 80% off on the best clothing, shoes and accessory brands such as Mango, Desigual, Levis, Nike, Camper, Parfois…and much more!
Don't forget to take a look at our outdoor eating area ?
Summer, sales, The Outlet Stores Alicante!
Read More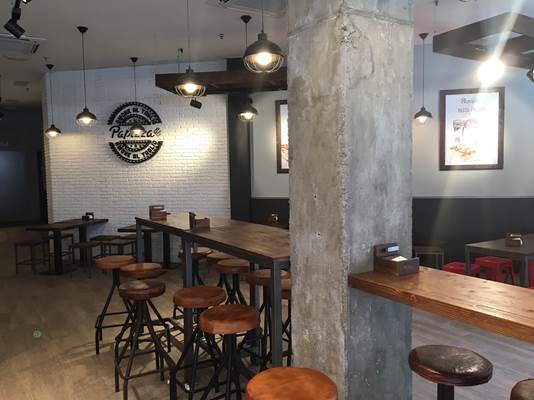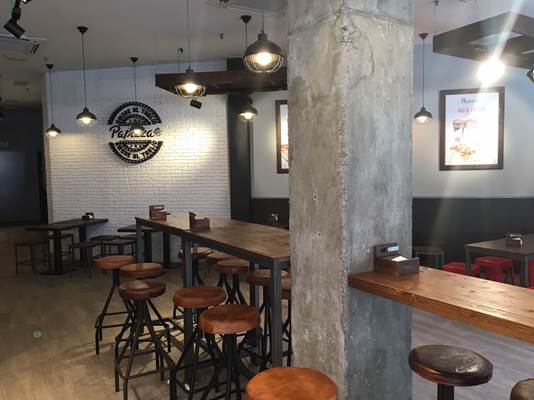 PaPizza it's an italian restaurant franchise that bring us a complete gastronomic proposal specialized in fresh pasta and high quality artisan pizza with a very accessible price for all kind of different costumers.
They are specialized in artisan pizza al taglio, made using new ingredients and recipes to amaze the customer with the wide variety of proposals.
Come and enjoy the Bella Italia in our mall! Are you going to miss it?
Read More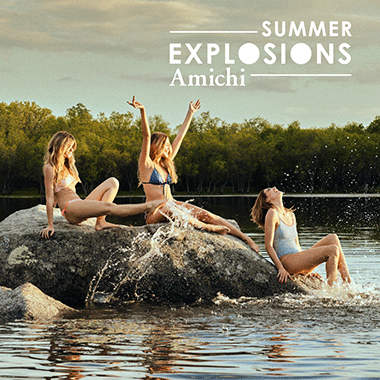 Amichi are on fire this summer!
For purchases over €25 you can win some fantastic prizes. How? Burst the balloons and enjoy the gifts that are hidden inside. You could win a fantastic one-week holiday for two and you can choose between 3 destinations! ?
* The number of balloons depends on the purchase amount.
* Prizes to be redeemed up to 22 June 2016.
* Ask staff on conditions and prizes.

Read More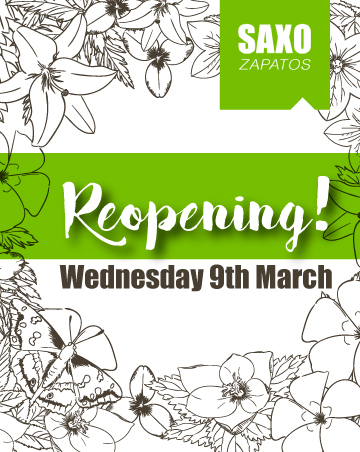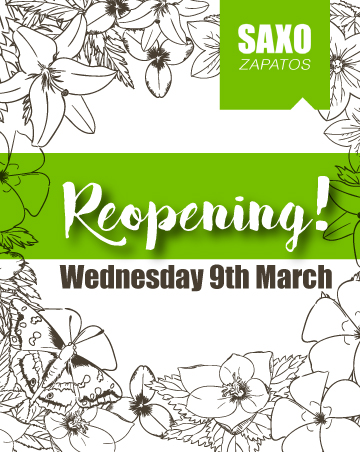 Saxo Shoes is changing location and moving to another site in our Shopping Centre. The reopening of the new store will be 9th March.
Don't miss the reopening!
Read More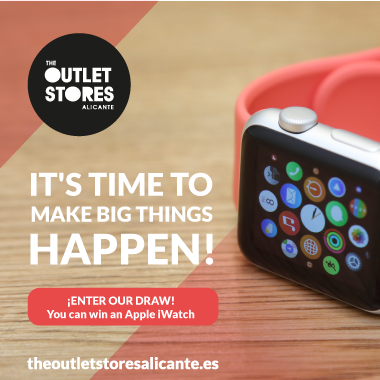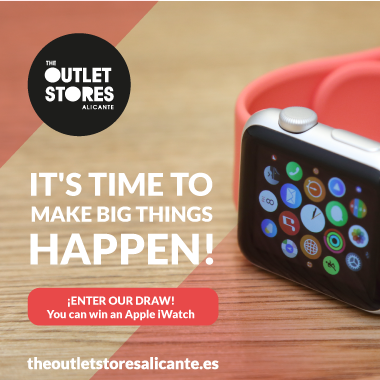 The time has come to do big things, the time has come to achieve the impossible …
The time has come to receive the present that you have been waiting for! Just visit our Facebook or Twitter page and sign up on the competition app and you can win an amazing iWatch Sport!
What are you waiting for?! If you want to be one of the lucky winners to wear an iWatch Sport on their wrist hurry up and be one of the first to register. On 15th March, we will publish the name of the winner. Consult the terms and conditions of the competition and don't miss it!
Read More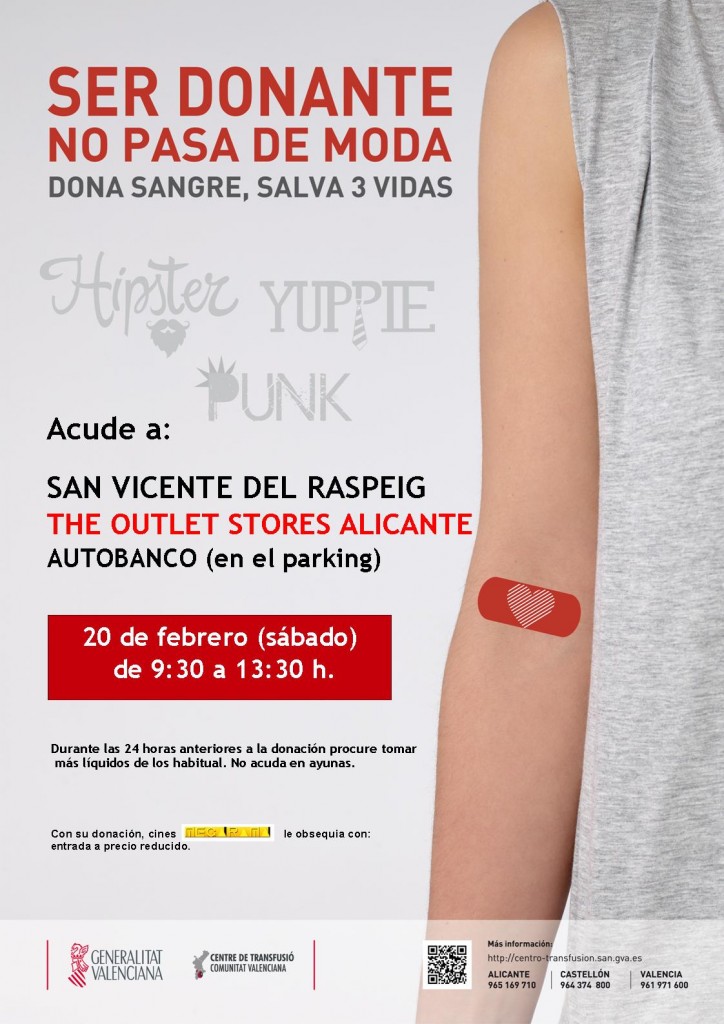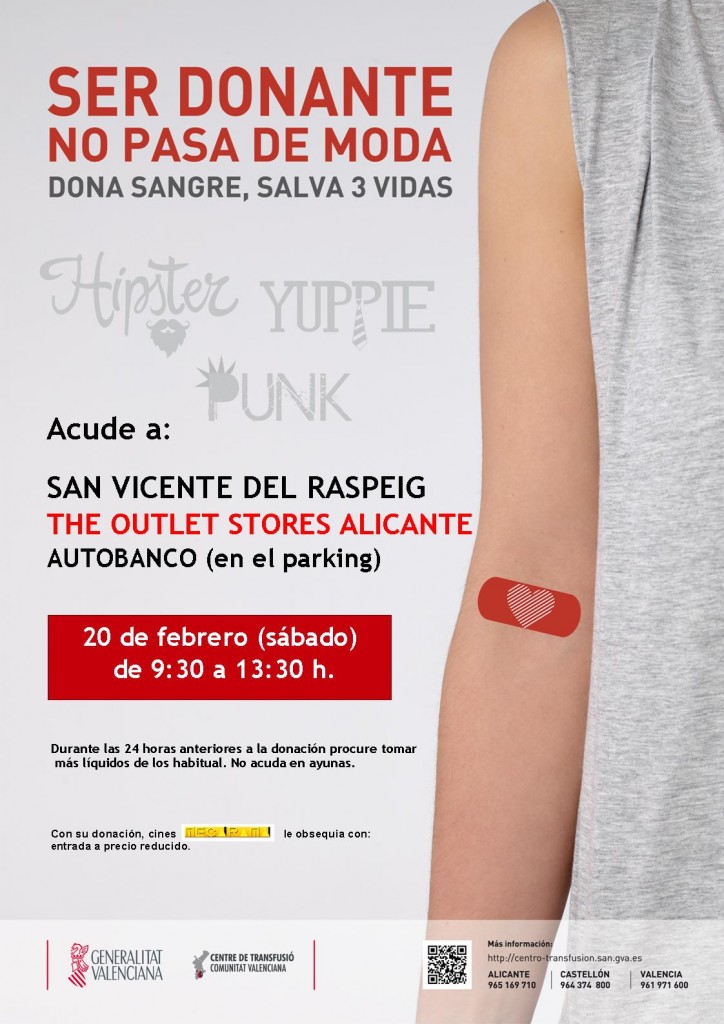 On 20th February, from 9.30am until 1.30pm, we will have a bus in the carpark of The Outlet Stores Alicante for anybody who can and wants to give blood … there are many ways to get to the heart of the matter!
Read More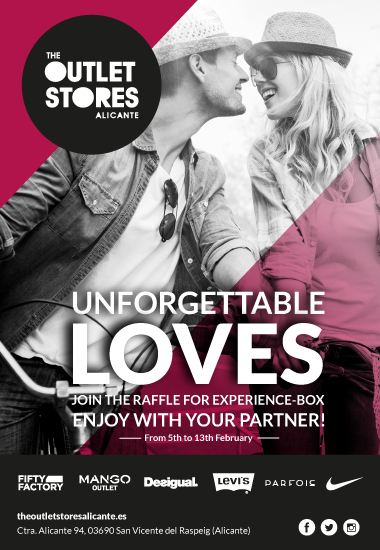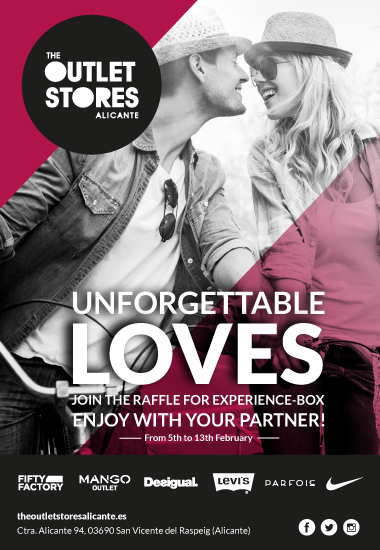 Enjoy this Valentine's Day with all your heart at The Outlet Stores Alicante. Win one of the 12 smartboxes that we are giving away and enjoy it together with your partner.
Hurry up! It is so simple to participate. Find one of our representatives and show them your receipts for purchases between 5th and 13th February with a total or accumulated value superior to €20 in any establishment in our shopping centre and you can win one of 12 "smartboxes" in a draw. Your Valentine's Day present will be taken care of! Consult the legal details of the draw and enjoy your Valentine's Day with all your heart!
Read More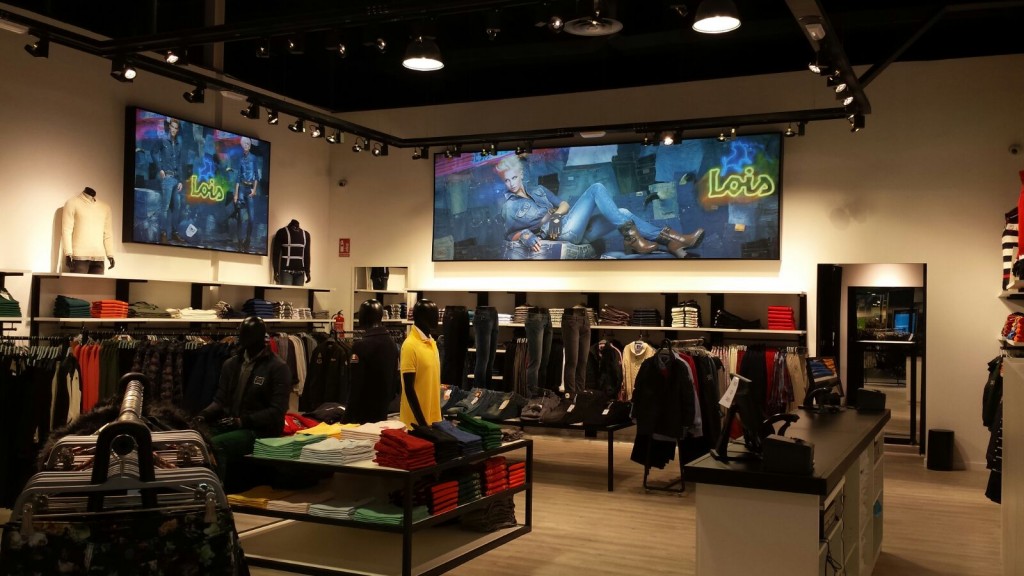 A new multibrand retail concept for men and women, where design, quality and international young fashion have their own name with brands such as V&L VICTORIO Y LUCCHINO, LOIS and BENDORFF … providing the customer with the best prices. Never have the fashion capitals Paris, Milan, New York, Los Angeles and Tokyo been so close.
V&L aims to meet the needs of all fashion lovers with an elegant touch but with the simplicity and distinction from today's society.
Lois is the brand leader in DENIM in Spain, available to all with a wide range of designs, there is something for everyone.
Bendorff provides the formality and comfort that men require. Be sure to come and try on their cotton clothing which makes up one of the collections with the greatest expansion on the national and French market.
Read More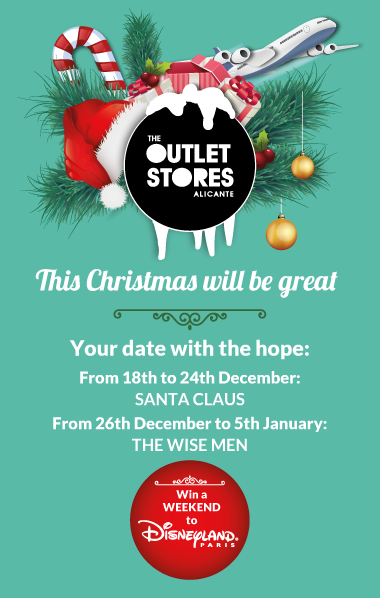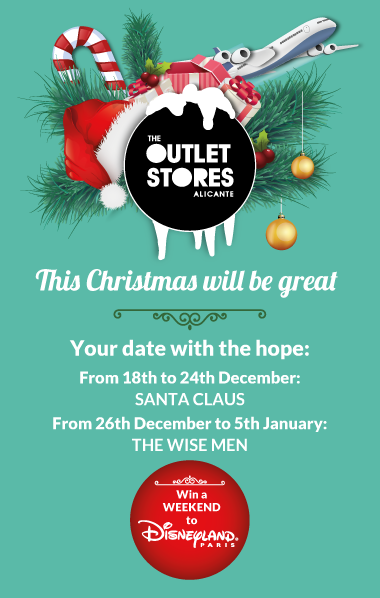 This Christmas, at The Outlet Stores Alicante Shopping Centre, is going to be epic. Win an amazing trip to Disneyland Paris and make your children's dreams come true … and yours too! ;)
What are you waiting for? Participating is so easy! Give one of our representatives (from Monday to Sunday 5pm – 10pm) one or more receipts with individual or combined totals of €20 or more for purchases at any establishment in our Shopping Centre. Check the legal terms and conditions of our draw and live the magic of Disney.
*Remember to visit Santa Claus and The Wise Men
Read More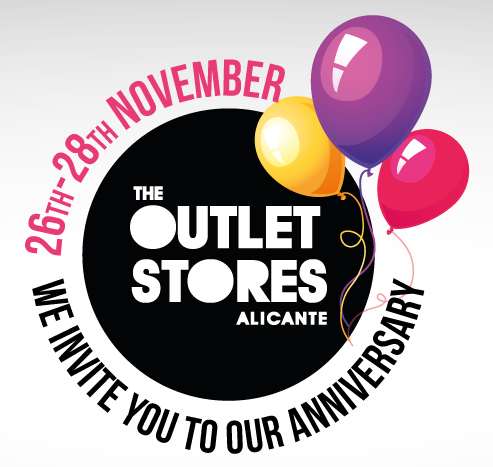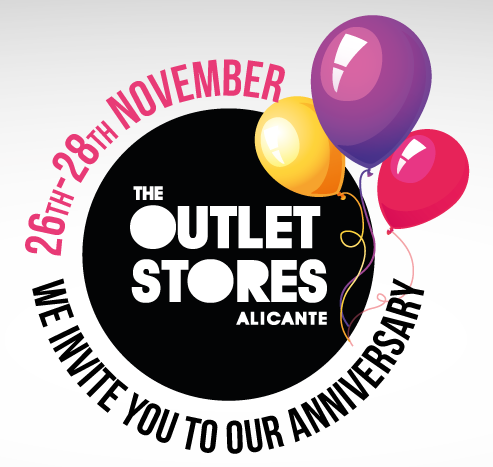 We are celebrating; in just a few days it will be our one-year anniversary and for this reason, we wanted to celebrate in style!
On 26th, 27th and 28th November, come and celebrate with us.
Our One Year Anniversary is such an important event that The Outlet Stores Alicante Shopping Centre is preparing a big party to celebrate it.
Having opened the doors to reveal the new image of The Outlet Stores Alicante one year ago, it is a perfect reason to thank those of you who had confidence in us and chose us as your shopping centre.
Thank you for making The Outlet Stores so important in Alicante
We have prepared great surprises with an end to the year that you cannot miss…
We will be waiting for you!
Read More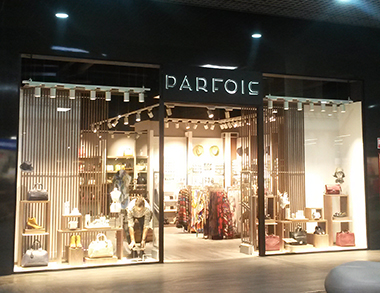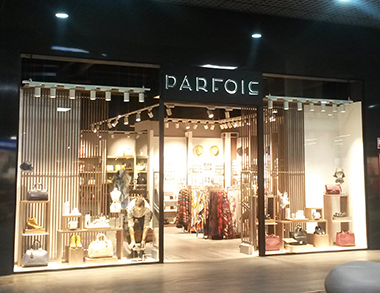 PARFOIS es una marca de complementos de moda para mujer líder en el mundo de los accesorios y la bisutería. Su fórmula se caracteriza por una constante renovación en sus colecciones y un producto vivo, en constante búsqueda de las nuevas tendencias y gustos de la mujer actual.
En nuestra tienda podrás encontrar la mejor selección de bolsos, maletas, monederos, zapatos y joyas con los mejores descuentos. ¡Ven a visitarnos!
Read More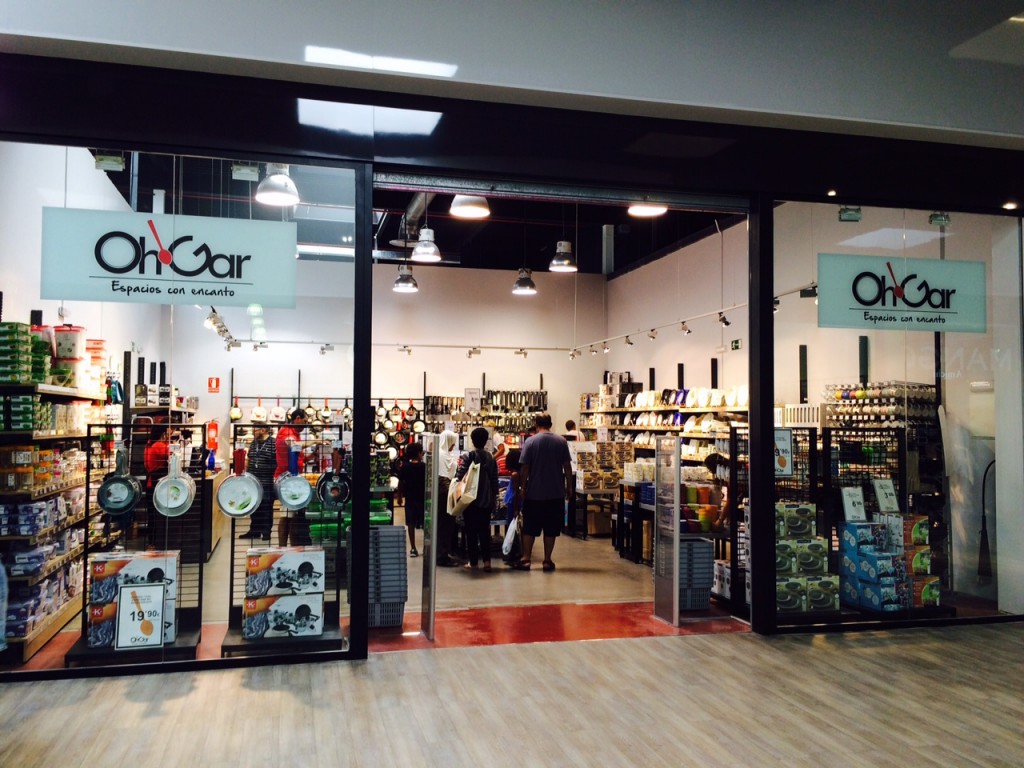 Oh!Gar es una tienda de menaje de hogar donde encontrarás los mejores precios y descuentos… ¡Descubre nuestro Outlet de Menaje del Hogar, Vajilla y Cocina!
Read More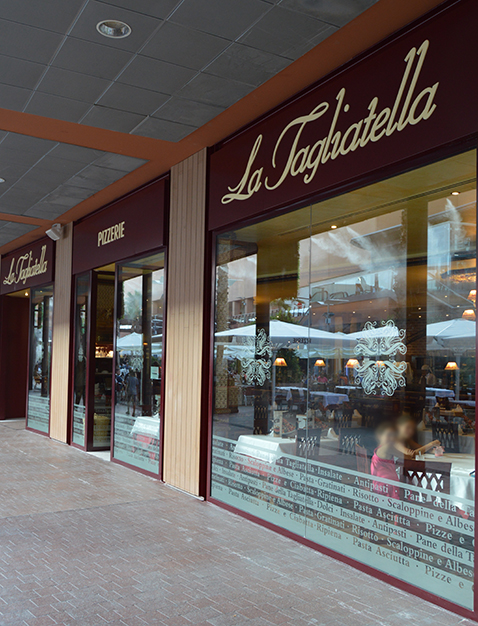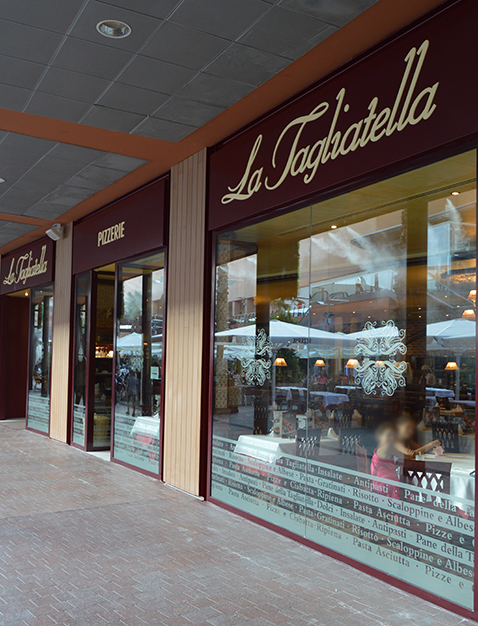 Las amplias raciones de este restaurante pizzería son perfectas para degustar en compañía gracias a la calidad de sus ingredientes… ¡Disfruta de la auténtica comida italiana!
Read More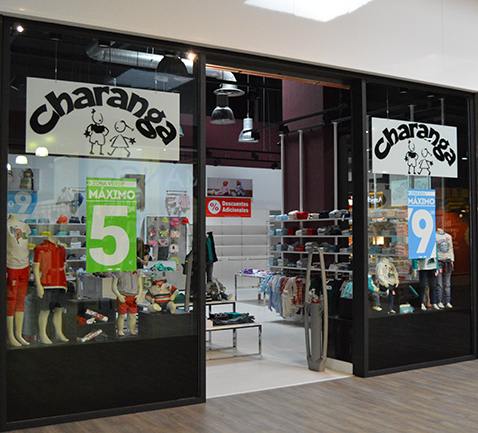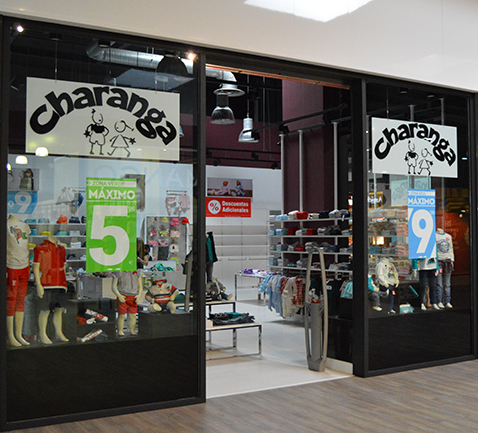 We are in luck! The Outlet Stores Alicante has been supplemented by the presence of Charanga which has opened  their doors to offer all its children's fashion at the best price ;)
Read More
© Copyright The Outlet Stores Alicante. All rights reserved
Search engine
Write what you're looking for in The Outlet Stores Alicante