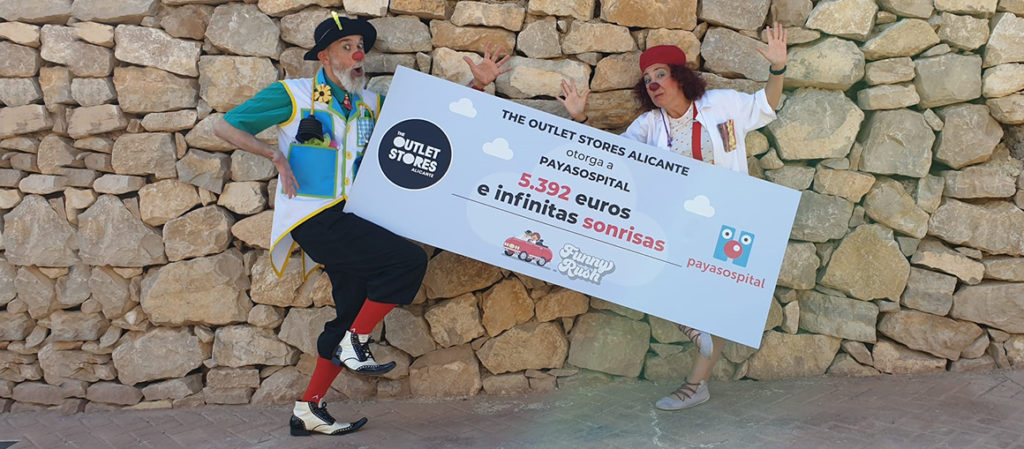 Funny Rush, the initiative that we have carried out together with Payasospital during the month of June, has been a great success thanks to the collaboration of almost 5400 users who, selflessly, have wanted to participate and leave their virtual smile through our landing page created for the action.
This means a donation of 5392€ by the centre to the Payasospital association, so that they can continue to bring laughter to hospitalised children, giving them back a little bit of hope and improving their emotional state, within the difficult situation they are going through.
From The Outlet Stores Alicante, we want to thank the collaboration and support of all the people who have participated in this action, making it possible not only to achieve the initial goal, but to have been able to overcome it, being able to collect 5392 solidarity smiles.
This means more than 500 care, artistic and therapeutic interventions for children admitted to the General Hospital of Alicante and their families, reaching children in the most vulnerable areas, such as Paediatrics, Paediatric Oncology, the Pedagogical Classroom, the Burn Unit, ICU or Paediatric ICU, among others.
This has been the second action we have launched together with Payasospital and we could not be happier with the results. Since last Christmas, we have been able to raise almost €7,000 for hospitalised children thanks to the participation and solidarity of all of you.
So, once again, THANK YOU FOR EVERYTHING!
Read More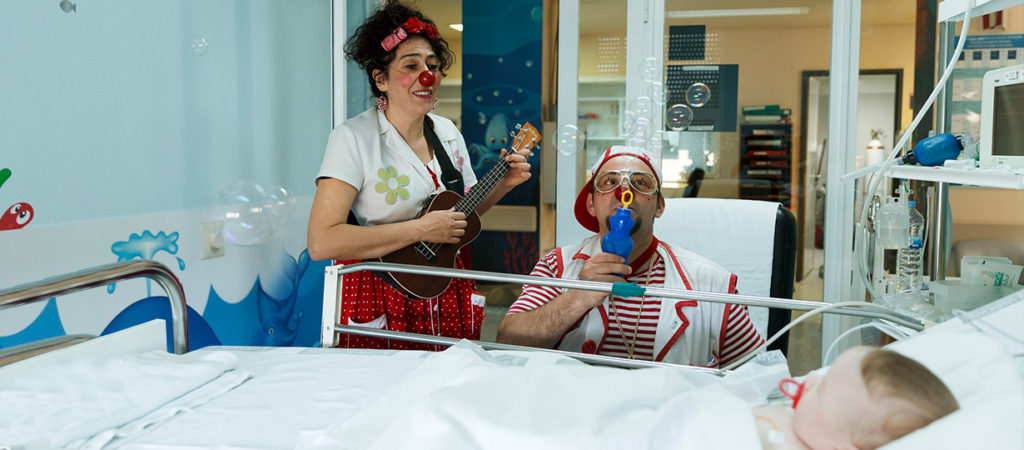 The Outlet Stores Alicante joins again Payasospital in a solidarity initiative to bring laughter to children admitted to the General Hospital of Alicante.
While last Christmas we managed to give a little bit of hope back to many hospitalized children with our campaign "A letter, a smile", this time, we want to go a step further!
From our center, we have launched a solidarity action called "Funny Rush", whose goal is to get more than 5,000 symbolic smiles that we will convert into a donation to the Payasospital association, so that they can continue to bring joy to children and their families, as they have done for over 20 years. For each smile received through the campaign page, the center will donate €1 to the cause.
If we meet the challenge, more than 500 artistic and therapeutic interventions will be carried out, which will help to improve the emotional state and health of the little hospital patients, making their stay in the hospital a little more fun.
These activities will be carried out mainly in areas such as Pediatrics, Pediatric Oncology, the Pedagogical Classroom, the Burn Unit, the ICU or the Pediatric ICU, where it is more common for hospitalized children to suffer negative emotional reactions.
The aim of this care is to significantly reduce this state, giving them a little bit of joy in their daily lives. It is hard to imagine how this type of situation can affect a child, but we can try to make them smile a little and that is precisely the goal of this solidarity campaign.
If you want to participate and leave your "virtual smile" for these brave ones, it's very simple! Just go to www.theoutletstoresalicante.es/funny-rush/ and press the START button. Follow the steps and your smile will fill the battery of the Doctors of Laughter, who will be one step closer to achieving the challenge.
The initiative will be in force during the whole month of June, so we encourage you to participate and leave your smile selflessly for all these little fighters.
THANK YOU!
Read More