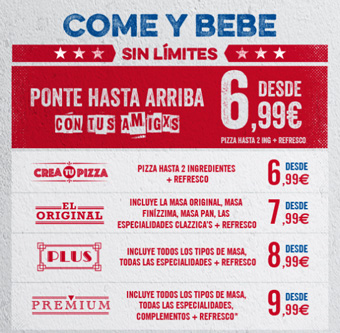 DOMINO'S PIZZA | EAT AND DRINK
If you want to eat and drink without limits, Domino's Pizza is the restaurant for you. Visit us and you can repeat all you want in pizza and soft drinks from just €6.99 each. Plus, you can make it Premium for just €3 per diner (includes all doughs, specials, toppings and soft drinks).
*Promotion valid from 2 people.
*This offer is not compatible with other promotions or discounts.
* Ask staff on the specific conditions of the promotion.