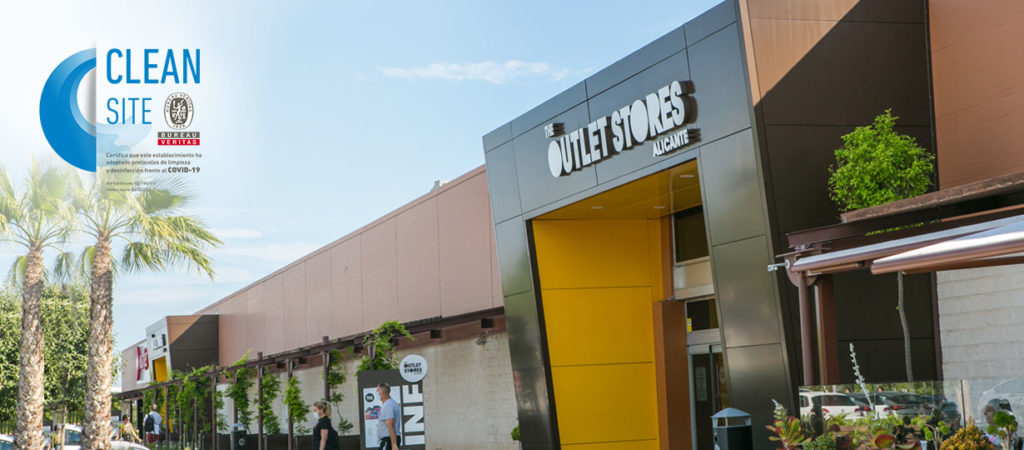 The Outlet Stores Alicante, certified by Bureau Veritas as a safe space by COVID-19
The safety of all our visitors, employees and suppliers has been a priority from the very beginning of the pandemic. Faced with the situation experienced by COVID-19, our entire team has worked exhaustively to ensure the safety of all of them.
As a result, today we can say that The Outlet Stores Alicante, managed by Savills Aguirre Newman, has obtained the Bureau Veritas Clean Site certification thanks to the safety protocol implemented since its reopening in the face of COVID-19.
In our commitment to the welfare of all those who are part of the family of The Outlet Stores Alicante, as well as our firm commitment to the revival of the retail sector, obtaining this certification ensures that, in our centre, we apply the highest standards in hygiene and disinfection, in order to make our commercial and leisure space, a completely safe environment for everyone.
To achieve this certification, an arduous process of analysis and verification of the protocols applied to the new needs of the health crisis has been carried out. Among other aspects, all the preventive measures carried out in the common areas were audited, as well as the cleaning, hygiene and disinfection action plans.
With a proactive attitude towards the management of the new challenges in the sector, it is worth highlighting the most relevant measures we are currently implementing in the centre to offer our customers the safest possible space, where they can continue to shop and enjoy their leisure time.
Capacity control
Maintenance of the interpersonal safety distance
Proper use of masks
Hygiene and protection equipment available to employees and visitors.
To all this, we add a communication campaign that strengthens the centre's commitment to maintaining a relationship of trust with all our public.
Therefore, today we can say that we are a completely safe space, where we can continue to enjoy unique plans and in the way we like the most, because our priority will always be the safety of all those who trust us.