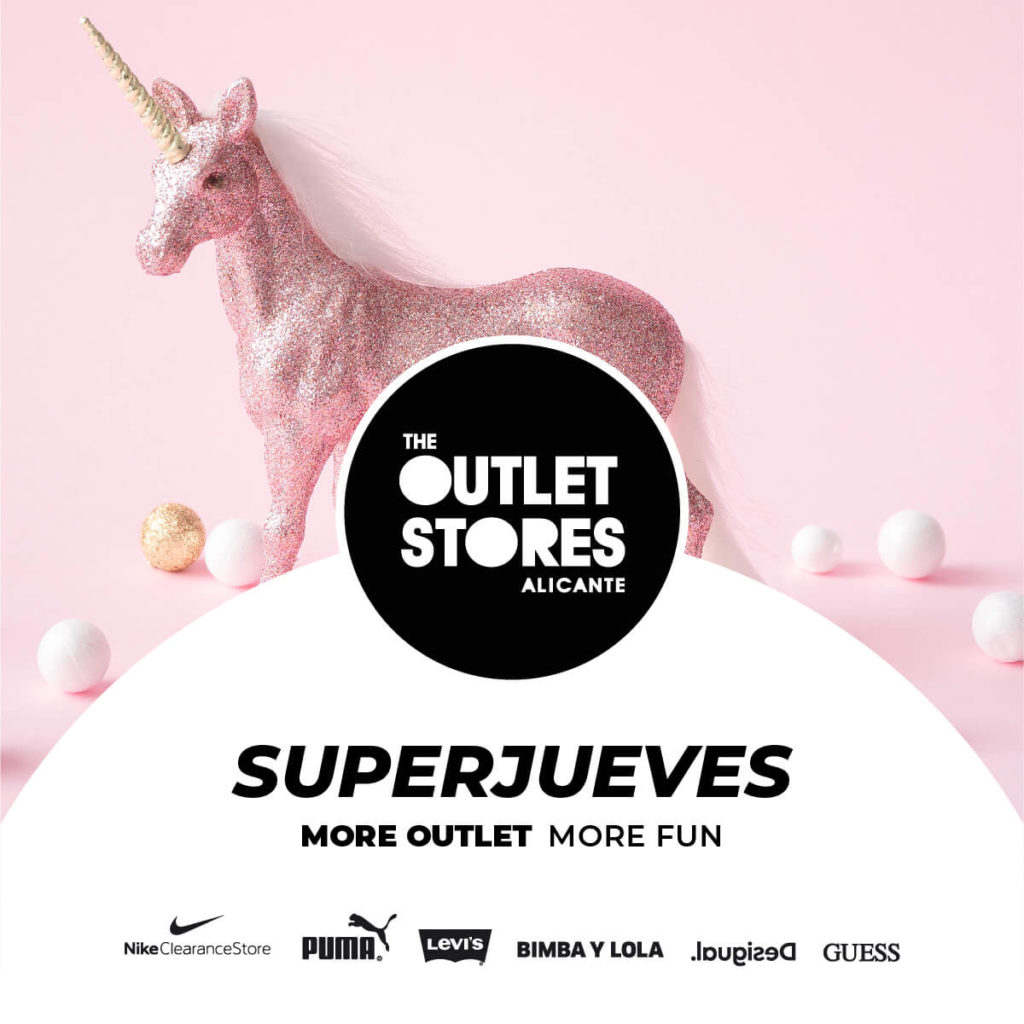 #SUPERJUEVES
The last Thursday of every month we celebrate our #SUPERJUEVES!
The day with the most offers in our Outlet shopping centre. The best brands with extra discounts and a lot of other surprises you can get by visiting us. Remember, only Thursday 27 february at The Outlet Stores Alicante.
These are some of our promotions:
PARFOIS: TAKE 5, PAY 3 in jewelry (except permanent models, steel and silver!). The jewelry that goes in is the one that was in the sales; except steel and silver. No silver or steel items enter the campaign. Make sure they are excluded from the promotional panels.
TAKE 2 FOR 25 in marked bags. Marked bags are all those that were on sale
PUMA: 20% extra in the whole store* (does not include underwear that cannot be added to other promotions).
XTI STORE: 10 % EXTRA ONLY IN WINTER ( DISCOUNTS ).
MUSTANG OUTLET: ALL AT 9.99 ?. Men's and Women's Sportswear
Men's and Women's Shoes
Women's Lounges
High Women's Boots.
Women's boots.
Boys' / Girls' Shoes.
Handbags and Wallets.
ASICS: 20% on the usual prices.
NICE THINGS PALOMA S: 15% on new collection.
JASLEN: 30% additional in trips in selection of collections, not accumulative to other promotions.
GUESS: 20% discount on all products and selected categories of New Collection.
PEPE JEANS: 20% discount on purchases over 120 euros, the promotion will last from 27/02 to 07/03.
HOME & COOK day without VAT: Discount applicable on outlet price. Excluded: Smart Force Robots, Companion Robots, Nespresso Coffee makers, Dolce Gusto Coffee makers and capsules. Cannot be combined with other promotions.
HUNKEMOLLER: Swimwear bikini set 25 ?!
50% discount on bathroom accessories
70% off
3×2 in bra accessories!
CROCS: ALL items that currently have a 50% discount (on the FP price) will have a 70% discount. Excluded are new items that are currently without discount.
OH GAR: 10% off everything* . (*Except for the last units, discount cannot be accumulated with other offers).
We are waiting for you!